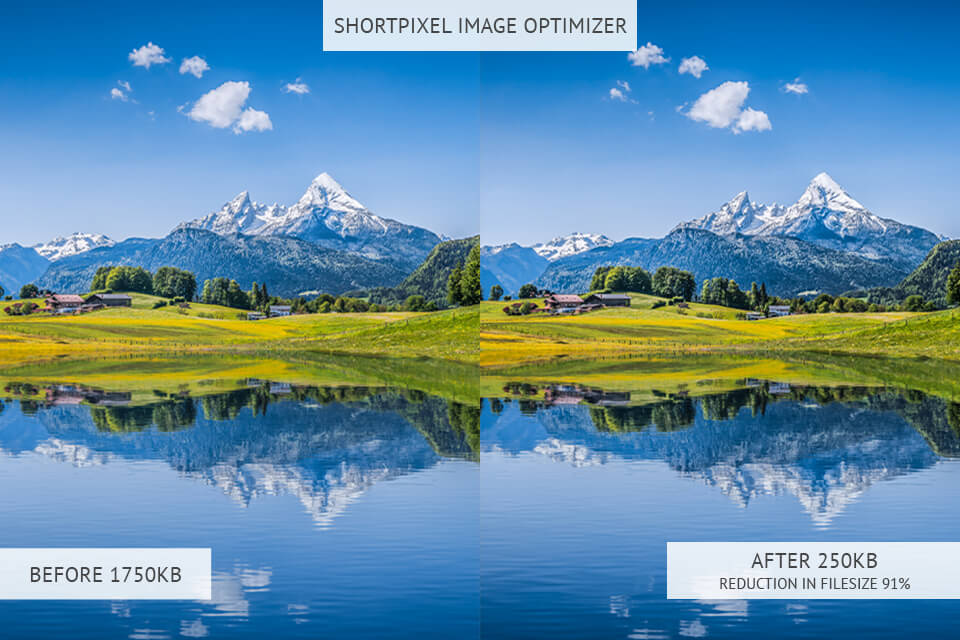 Do you have large images from your device and plan to compress them before uploading them online? Optimizing your images for your website will help your site load faster. And of course, loading speed will be good in the eyes of search engines! In this guide we will list free tools for optimizing images for compression
Why do images need to be optimized? Large size images will be a burden on the web, this will make the web work slow because it takes extra time, which annoys your users. In fact, research shows that users exit the page if it takes them more than 3 seconds to load! Optimizing your images will go a long way in speeding up your site so you can keep your users on your site.
Let's take a look at the best free image optimization tools for image compression:
Best Free Image Optimization Tool for Image Compression.. Here's the list
1. Optimizilla
Optimizilla manages to reproduce your images in the best possible quality with the lowest possible file size. And you can compress your JPEG and PNG photos with this tool.
Optimizilla also features a slider that shows before and after versions of your photo. That way, you can see the quality of your image before continuing. With the slider, you can decide how much you want to optimize your image before you experience a noticeable loss of quality.
This online tool is great for batch processing. Optimizilla allows you to upload up to 20 images at once and set the compression level for each photo separately.
Unfortunately, because Optimizilla only works on JPEG and PNG files, you won't be able to use it to optimize your PDFs. Some of the other tools on this list would be better suited for PDF optimization.
2. JPEG Optimizer
JPEG Optimizer lets you upload and compress your photos online. This simple tool works, as the name suggests, only on JPEG files.
What's great about JPEG Optimizer is that it lets you resize images before they're optimized. Resizing images saves more loading time, and with this online platform you don't have to split the workflow into two steps.
JPEG Optimizer also allows you to choose your own optimization level, which allows you to control the quality of the optimized image. This feature is especially important for photographers, as you'll want to find a compromise between preserving quality and saving space.
3. ImageRecycle
ImageRecycle compresses your JPEG, PNG, GIF and PDF images with impressive results. The drag and drop interface lets you drag photos from your desktop to the optimizer for an easy workflow.
The site also offers free website analysis. When you request analysis, ImageRecycle returns a free report designed to help you understand which images on your site would benefit from optimization to improve your site's performance.
ImageRecycle has WordPress plugins, Shopify app, Magento extension and Joomla Extension. If you use one of these other sites, you can use the ImageRecycle extension to compress your images instead of navigating to a separate site.
With ImageRecycle, you get access to a 15-day free trial with a 100MB limit. After that, you can choose to buy paid plans – $10 for 1GB, $20 for 3GB and $50 for 10GB.
4. Kraken.io
Kraken.io is another bulk image optimizer. With Kraken.io, you can optimize a large number of JPEG, PNG and animated GIF files.
Unlike other image optimizers on this list, Kraken.io optimizes your files for the lowest size. This means that with Kraken.io, you will always get the smallest file size version of the image you enter. Then, you can download the compressed photos individually or in .zip format.
Kraken.io also lets you export files to Dropbox or import files from Box, Dropbox or Google drive.
If you are looking for more advanced features, Kraken.io offers a pro version which comes with many other perks such as the ability to resize images, the ability to include multiple image sources at once, upload unlimited image sizes and much more.
The free version allows you to compress photo files up to 32MB each and up to 100MB photos in total. So really, how well Kraken.io will work for you depends on the initial size of the image you want to optimize.
5. Optimole
Optimole is a popular image compression and optimization plugin, created by the same people behind ThemeIsle.
These tools can compress, resize, slow loading and host your images on their CDN.
Of course, the SAAS service is not free, but there is a free Optimole plan for you to get started with their system.
The best part is that you can install a WordPress plugin on your site and easily optimize your images without having to do much.
6. CompressNow
CompressNow is another easy-to-use optimization tool that allows bulk uploads. Simply upload your JPEG, PNG and GIF images from your computer, set a compression percentage for the images and download them for use on your site.
You can drag and drop up to 10 images at once. However, unlike Optimizilla, CompressNow applies one level of optimization to all the photos you upload. If they all require the same level of compression, then CompressNow makes your job easier!
7. Tiny PNG
Tiny PNG is one of the oldest and most popular free image optimization tools. With many possibilities for compressing images for your site, this online tool works well for JPEG and PNG image files.
8. Trimage
Triimage works great for Linux users to remove EXIF ​​and metadata from images. This image compression tool then compresses your JPEG and PNG images to the highest level.
If you're a Mac or PC user, the other options on this list would be better bets for your system. Triimage is best suited for Linux users.
9. Compressor.io
Compressor.io ensures that you don't lose image quality while achieving high compression levels.
It is an excellent tool known for its flexibility to easily optimize JPEG, PNG, GIF and SVG files. Compressor.io has the ability to reduce file size by 90% or more!
Again, Compressor.io's drawback lies in its upload limitations. You cannot use Compressor.io to optimize more than one image file at a time.
10. Online Image Optimizer
Online Image Optimizer, a Dynamic Drive product, helps you easily optimize images from all major formats, so your photos load faster on your website.
The tool also includes an image conversion feature, which can help you convert your JPEGs to PNGs for use online.
Unlike some other image optimizers, Online Image Optimizer also lets you upload images via URL. That means you can optimize the images already on your website! In the long run, it saves you time and effort to replace old images with optimized online versions.
However, Online Image Optimizer only allows you to upload one image at a time, and it can have a maximum file size of 2.86 MB.
It allows you to upload up to 20 images at a time and up to 100 images a month. The image size for each image shouldn't exceed 5 MB, but for the most part it shouldn't be a problem. After compression, you can download the compressed image to your computer or easily save it to Dropbox.
Tiny PNG also offers a WordPress plugin and a Magento extension, so you don't have to leave your own website to compress your images.
10. Resize Photos
Resize Photos is another free image compression tool for image optimization. You can also use Resize Photo to resize images for use on your site, in emails, or in forums.
Just upload your image to an online page and set the compression level between 1-100. Then, download your compressed photos!
You can also use their site to apply image effects from their gallery during the optimization process. These effects include captions, photo effects, borders, reflections, shadows, and rounded corners.
11. GiftOfSpeed
GiftOfSpeed ​​offers a number of compression tools to optimize your PNG and JPEG images. It applies several image compression techniques to minimize the file size to the lowest possible size.
With GiftOfSpeed, you can also resize images for better online performance.
The downside of this tool is that you can only upload multiple files for PNG optimization, not for JPG optimization.
13. JPEGmini
JPEGmini sends pictures of you on a diet! It shrinks your image file size, so you can enjoy the best online image loading speed. It has a better interface than some of the other options, with the option to upgrade to their Pro version.
Upload your image, then use the slider to see before and after versions of your photo. You will notice that JPEGmini maintains image quality after compression.
14. Convert Image
Convert Image compresses JPEG images on the go. This online image optimization tool lets you convert JPEG photos to other image formats like BMP, GIF, ICO, PNG and more. It even has several onboard settings that can flip your images, crop, straighten images and more.
15. PNGGauntlet
PNGGauntlet works specifically with PNG image files. This downloadable software combines with several compressors such as OptiPNG, PNGOUT, and DeflOpt to compress your images without affecting the image quality. It will also work to convert and compress JPG, GIF, TIFF and BMP files to PNG.
On the downside, it takes a little longer to optimize than some of the other options.
Thus the guide, Hope it helps you to find the best free image optimization tool for image compression. May be useful